Motivate Your Students for Achievement
Every student wants to achieve. What enables some students to go further?
It's GRIT -- also known as hard work, determination, perseverance, and resilience. The Grit Game Show equips your students with the resilience to bounce back from problems and failures. In our 60-minute assembly, student volunteers become contestants -- and the audience gets involved, too! We introduce the Growth Mindset and challenge students to see failure as a prelude to success. Our content-rich, motivational program for grades 3-8 motivates your students with the GRIT they need to succeed!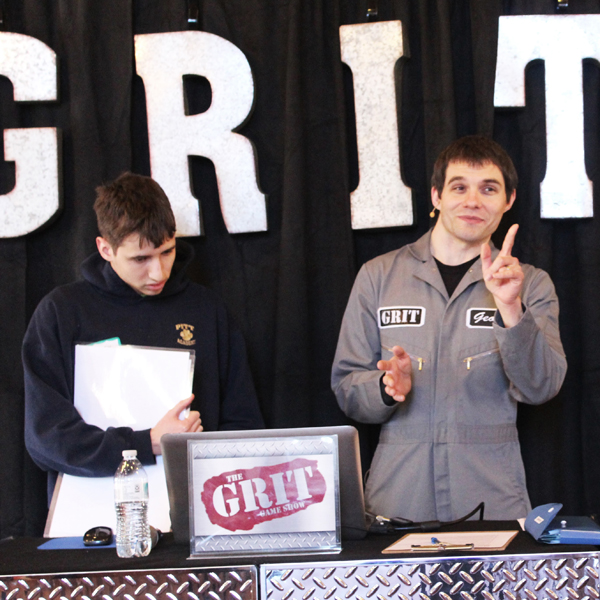 Students Served Since 2016
Number of Performances to Date
Teachers Who Would Recommend the Assembly
Our High-Energy Onstage Games
Choose Your Future
In our first competition, we'll explore what it takes for students to reach long-term goals, like landing their dream job.
The Loser's Club
Everybody fails sometimes. The only difference between success and failure is coming back to try again! We'll peek into the lives of famous people and learn how they overcame setbacks.
Talking Back
We challenge students to change negative self-talk (like "I'm not smart enough to understand the lesson") into positive, growth-oriented ideas (like "If I work hard, I can learn this").
Real Life Grit
In a tween-friendly way, we introduce students to Dr. Carol Dweck's research about Growth vs. Fixed Mindsets, and challenge students to always demonstrate grit!
What Educators Are Saying
"One of the best programs we've ever had!"
Lauren Manion, Guidance Counselor, Crossroads Elementary School (Mount Washington, KY)
"The kids loved it and learned a ton about tenacity."
Tamara Hedrick, Teacher, Stopher Elementary School (Louisville, KY)
"I highly recommend this very practical and useful program!"
Kevin Weihe, Guidance Counselor, Blue Lick Elementary School (Louisville, KY)
Empower your students for achievement and resilience with The Grit Game Show!
The price shown above is subject to change. A travel charge applies for destinations outside of a 20-mile radius from our office near downtown Louisville.